Referral Rewards - Medix Pharmacy™
Earn 5% of your friends purchases and 2.5% of their friends purchases with the Medix Pharmacy Referral Rewards Program
Become a Referral Rewards Program member instantly!
Start Earning Rewards Today
Our Medix Pharmacy Referral Rewards Program is designed to easily and accurately earn you rewards when you share your Medix Pharmacy experience with others. To get started simply setup an account and place at least one completed order. Then earn a percentage on every order that is placed by your family and friends you have referred.
You will be able to use your rewards dollars towards future orders to thank you for being a savings advocate for Medix Pharmacy.
Find out how customers just like you can earn rewards by simply saving money for yourself, your family and friends
Download the referral rewards program kit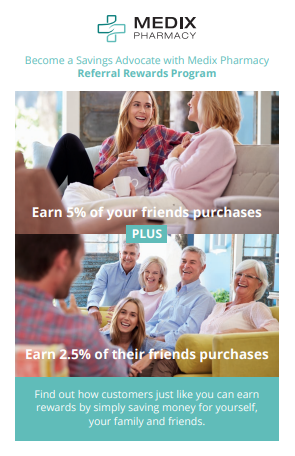 How it works
Lauren has ordered at least once with Medix Pharmacy and can now earn some referral rewards by referring her friends. She has downloaded and printed the Referral Rewards Program kit* to show her friends Mark, Jonathan, Sarah, and Monica. It clearly illustrates how much she and they will save buying medications from Medix Pharmacy.
Lauren's friends will receive a 25% discount off their first order, and all of the friends they refer will also receive a 25% discount off their first orders.
Lauren now earns 5% of the value of every order that her friends place with Medix Pharmacy, and an additional 2.5% of the value of every order that her friends' friends place with Medix Pharmacy. So the opportunities to earn or save are endless! Lauren can use the money she earns from Medix Pharmacy to pay for her own orders. It's Lauren's money that she's earned by telling her story and helping her friends save money on their medications, so the choice is up to Lauren what she decides to do with the money.
Try it for yourself
To see how much Lauren (or you) could have earned, please fill out the numbers below.
Lauren earns $16.00 every month!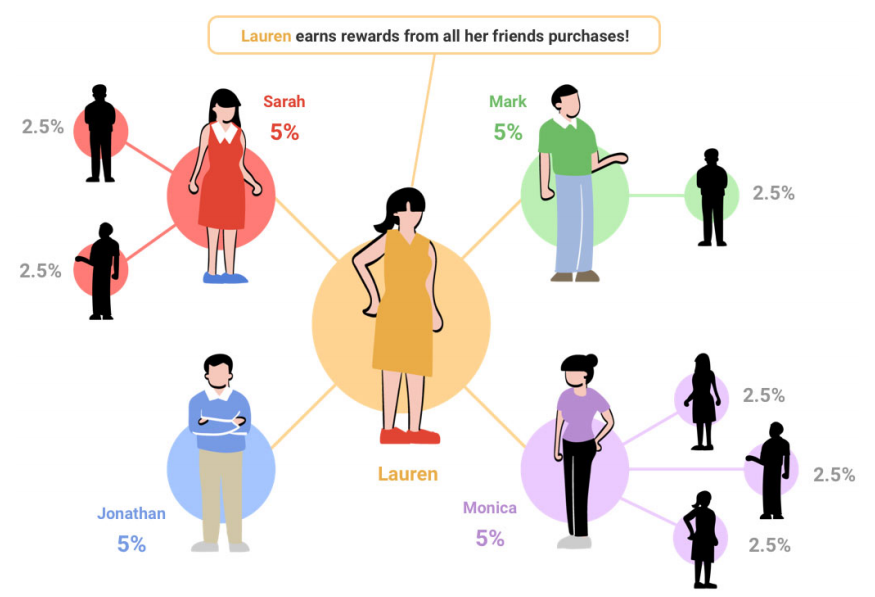 As one of our loyal customers, we recognize that you are our most effective advocate as you know firsthand the quality and reliability of our service, and the significant savings we offer.
As you've been a loyal customer and know us so well, we want to reward you for passing along the good name and savings message of Medix Pharmacy to your friends and family.
*If downloading the Referral Rewards Program kit doesn't work you may need to install Adobe Reader on your computer. Please follow the step by step instructions. Alternatively you may contact us at any time if you have any questions.